Why do You Think You Are Suitable to Work With Young People?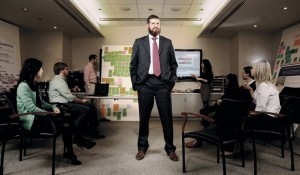 Generations are changing quickly. It's not easy for us, the "old" to get close to the hearts of the children, to build relationships with them, and simply to work with them effectively.
School principals, as well as other people that may lead the interview for your job, are aware of the situation, since they find themselves in the same boat, struggling with the young. Therefore they try to find out why you think that you can win the hearts of the students, and what you consider important when working with young people.
Humility always works
Every good assistant principal respects the children and their opinion. The worst thing you could do in an interview would be to say that you'd like to apply authoritative leadership. "I am an assistant principal, so children will listen to me." This approach does not work anymore. Neither in the corporate world, nor in education.
Minds and hearts of young people are sensitive, and ,regretfully, often also self-centered. It's impossible to use an authoritative leadership. Oppositely, you should try and think about their desires and problems, and do things that can bring you closer, at least on the emotional level. Our sample answers should help you to compose your own reply to this tough interview question.
Sample Answers
I try to be a good listener at first place. I try to understand each person in school, and find an individual approach to their problem. I am also humble and try to be friendly with children, so they can not only see it, but also feel, and hopefully talk to me openly.
I still feel very young to be honest. I like sports, modern music, I like to go out with friends. Obviously all of that I do in my free time. My activities do help me to be close to the young people, since we share the same hobbies. If I get this role, I plan to actively participate in activities organized for them, in order to be "one of them" sometimes, at least in their eyes.
They key to work with young people lies in an understanding of their problems and their outlook of life.
Next Questions: